Sarah Ferris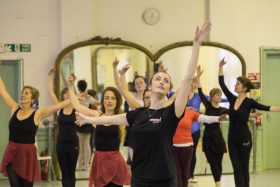 Sarah's early dance experience and training was with Swindon Dance's, Youth Dance Company and Dance Foundation Course. She then completed her dance training at The Rambert School of Ballet and Contemporary Dance. Sarah has been working with Swindon Dance in many roles, over the last ten years.
Sarah was the Coordinator of the Centre for Advanced Training (CAT) Swindon Contemporary Programme since 2008. She took over the role as Programme Manager for the CAT in 2016.
Over the last ten years Sarah has taught ballet, contemporary, and choreography. She gained her diploma for teaching in the life-long learning sector (DTTLS) from the British Ballet Organisation. Alongside her teaching, she has regularly created performance work with adults and young people.
Sarah has been a member of Swerve Dance Theatre Company, led by Artistic Director Helen Ganberg since it began in 2005. As a member of Swerve she has toured theatres, performed in festivals, outdoor events and in dance on film works.
Sarah Ferris's Classes