DanceOut Programme
Enriching lives through dance
Our team takes Dance OUT into the community and schools offering exciting and diverse projects and dance activities.
This caters for people of all ages and abilities giving them the opportunity to participate in dance of the highest artistic quality, offering access to all, encouraging participation, creativity and excellence. We have a range of off the peg and tailor-made programmes to suit each group whether in school, in the class group or out in the community throughout Swindon and beyond.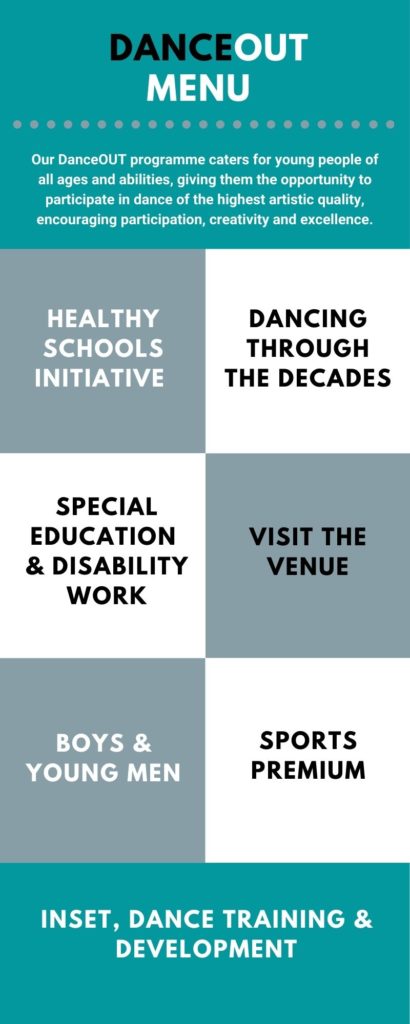 We aim to offer everyone, regardless of age, ability or background the chance to experience and participate in the richness of dance, whether they are stumbling across it for the first time at one of our community events or taking part in a dance residency, performance opportunity or working with a visiting professional dance artist or company.
Our projects offer a rich mix of dance styles, the chance to meet new people, have fun and opportunities to make and perform work.
Our projects are for people with or without dance experience, are age appropriate and are designed to support individual and group development providing that perfect springboard for progression and enjoyment.
We are dedicated to maximising the opportunities in dance for adults, children, and young people.
Our Education and Development team is on hand to discuss your individual dance requirements.
healthy schools initiative
Practical classes and courses that support the Healthy Schools Award and are kite-marked by Swindon Borough Council's Healthy Schools team. We suggest weekly classes over a half or whole term. These can be adapted to address Physical and/or Mental Health and well-being and your pupil's aims (Bronze/Silver/Gold). We have worked with a number of schools including Hazelwood Academy, Westlea Primary School and Holy Family Catholic Primary School.

dancing through the decades
Practical classes and courses that explore the 1910's right up to today's social and cultural cross curricula links to History, Physical Education, Geography and Music. We use film and visual resources to support these sessions.

Boys & young men dancing
Practical classes and courses led by male dance teacher's to empower and encourage more boys and young men to dance. Styles on offer include Urban, Contemporary and Contact.

visit the venue
Bring your students to us to experience a half or full day in our artisitc life. Each visit includes:
Tour of the grade 2 listed building, it's history and a fun quiz (with prizes)
One or more dance classes in one of our professional dance studio, led by highly experienced dance teachers and tailored to your requirements. A range of styles are available including; Jazz, Contemporary and Street.
A Q&A session with a real life professional dancer/dance teacher/professional and Director of the venue.
sports premium & artsmark
We offer primary school teacher dance training courses, classes and packages for Sports Premium funded activities. We are also an Artsmark partner.

special education & disability work
We have a small, dedicated team of experienced and specialist dance teachers and musicians that are available to work in special schools and groups.

curricula & extra curricula classes & courses
We continue to offer curricula and extra curricula classes and courses in schools and other communities across Swindon, Wiltshire, Gloucester and beyond. We have qualified, experienced professional dance teachers in a range of styles including; Ceative dance, Contemporay, Urban Jazz, Musical Theatre, Ballet, Tap, Social and Cultural styles.

register your interest
For more information contact our Education and Development team:
Email: sarah.fletcher@swindondance.org.uk
Tel: 01793 601707