Saturday 23rd April 2022
Booking as part of The Jam Festival super early bird ticket now open – £150 for whole event.
West Country Clash is provided in partnership with Your Next Move and The Jam, taking place during the spring, at Swindon Dance. The event is part of The Jam Festival; an event that commemorates The Jam Movement which started in Bristol in 2009. At this event, we celebrate all things hip-hop culture through workshops, events, performances and seminars.

WCC features dance battles, with categories such as b-boying, hip-hop and popping, as well as an all styles category, usually for under 18's. Like MSB, each WCC has a schedule for the day, including workshops with renowned and experienced dancers, allowing participants to improve their knowledge and ability within their desired style.
​Dance battles at WCC will have a similar format to those at MSB, involving registration, pre-selections, the battles themselves, judge demos and prizes.
The 2022
event
Click on image to enlarge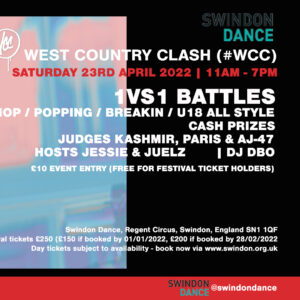 To grab your super early bird ticket click here

Check out MC & Judges showcase WCC 2019 – Ramelle, Juelz, Crybaby Cozie & Brooke.
The winners from West Country Clash '21 #WCC
1 vs 1 battles
Hip Hop – Damion
Breakin' – Sheku
Popping – Flavio
U18 – all styles – Ish

Judges – Clara, Dickson & Clint
DJ – DJ DBO
Hosts – Jessie & Juelz