Erica Fowers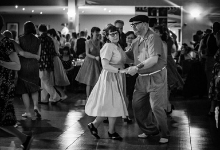 Erica has over 20 years of dance experience, dancing a variety of styles including Lindy Hop, Charleston, Jive, Collegiate Shag and Mondern Jive. Learning from a variety of very talented dance teachers across the UK.
Erica has been teaching Swing Dance with her husband for 8 years (Swingout Swindon) at all levels from complete beginners to advanced, running weekly classes and specialist workshops. Also teaching at a variety of festivals throughout the South West and choreographing and teaching team performance dances.
Erica has created Swing Moves – her own Solo Dance Classes, where most of the routines are choreographed by herself. These have been running weekly for the past 5 years, they are low impact dance classes focussing on the rhythms and jazz steps from the swing era.
Erica's main goal is to ensure that whichever classes she is teaching are full of smiles and laughter….dancing feeds the soul.
Erica Fowers's Classes