Banxy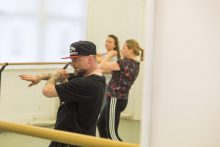 Banxy is a veteran in UK hip hop dance. Having trained at Swindon Dance, the Northern School of Contemporary Dance and the London Studio Centre, he has spent the last fifteen years teaching and performing across the UK and abroad.
High-profile projects Banxy has been involved with include dancing and choreographing Jonzi D's Me Vs the City and Aeroplane Man tours, choreographing breakdance sequences for the BBC TV series Travels with my Tutu with Deborah Bull, Principle Dancer at the Royal Ballet; and teaching and rehearsing the ground performance dancers at the Millennium Dome celebrations. He has appeared as a dancer in many TV shows, live events and music videos', including George Michael's Spinning the Wheel.
Banxy has been heavily involved with Swindon Dance throughout his professional career and was commissioned to perform at their 25th Anniversary Gala. Most recently he appeared in the BBC Blast programme as part of the Big Dance event in Trafalgar Square, and gained second place in the Battle of the Desert competition in Almeria, Spain.
Banxy toured his production Busk: Kings of the Sidewalk extensively throughout the UK in the Autumn of 2007 to great acclaim and when not touring delivers extensive education and outreach to a wide variety of ages and abilities.
Following this he toured a new solo piece Ikky Wakk in Autumn 09. In 2012 Banxy performed in Jonzi D's critically acclaimed Lyrikal Fearta.
Banxy's Classes