Take Part is our high voltage, high flying annual season of outdoor summer performances, workshops and events where we take dance out in to the streets of Swindon and beyond.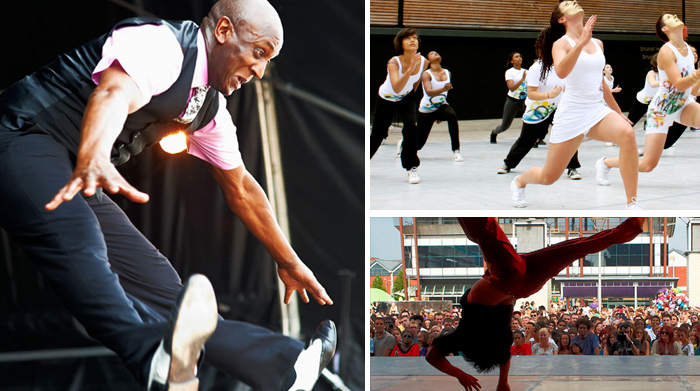 ____________________________________________________________________________________________
Take Part brings extraordinary dance to extraordinary places through projects such as:
Urban OUT  an outdoor event down at Swindon's Big Screen  which presents the best of Swindon's homegrown urban dancers plus professional crews.
Dance Village at Bristol Harbour Festival, Bristol 16th & 17th July 2016
Co-Produced by Swindon Dance and Restaged, Dance Village @ Bristol Harbour Festival is the biggest free dance Festival in the South West  attracting huge audiences to enjoy an exciting  programme of dance  of all kinds on and of the  Main Dance stage, this year in the Amphitheatre in the heart of Bristol.  In 2015, companies include Stop Gap, Ballet Black, Boy Blue , James Wilton Dance and Two Faced Dance, as well as some of the most exciting next generation  youth dance companies and dancers including Swindon's Dance's Youth Dance Company and  Youth Dance Academy.
Watch highlights from Dance Village 2015 here:
Want to find out more about the Dance Companies performing in  2016 – click on the trailers below!
Main Project:
Protein Dance '(in)visible dancing' – performances twice daily at Cascade Steps form Monday 11 – Thurs 14 July, building to a large scale finale with local participants and live music – https://www.youtube.com/watch?v=_LIP9LJA4Vk (local partners The Island, Trinity Arts, Arnolfini)
Dance Village Co-commissions:
Zoie Logic Dance  – 'Ride' https://vimeo.com/158856011
Joli Vyann – Lance 'Moi En L'air'  – https://www.youtube.com/watch?v=y6dFZNi7DX8
Visiting companies:
Casson & Friends – 'The Dance WE Made' – we are training four local dancers to  work with Tim between Queens Square and Arnolfini on Sunday to collect movements from the public for performance and film https://www.youtube.com/watch?v=JkZiMbM6NCA (local partner Arnolfini)
Candoco Dance Co – You & I Know', (choreography Arlene Philips) – https://www.youtube.com/watch?v=r1W7DKjTGUs
Corey Baker Dance – 'Phonebox' https://www.youtube.com/watch?v=pOhGLhfYepo