14 Apr, 2020 08:00 - 17:00
Venue: Swindon Dance
Box Office: 01793 601700
The Jam Festival & WCC
After last years success we're excited to announce our second international 'Jam Festival' & 'West Country Clash'. Birthed last year to celebrate Jam!Collective's 10 Year Anniversary, and we have decided to make this an annual event.
This celebration of underground dance includes amazing workshops and events led by the dancers who were there at the genesis of 'Jam!'; with the likes of BrknNest Party, IndaHouse and West Country Clash all making their mark throughout the festival.
An international line-up of the World's leading dancers of Hip Hop, Litefeet, House, Popping, and Breakin' will be there to share their depth of knowledge and skills throughout the camp. With it being such a rare occasion, 'The Jam Festival' promises an inspiring week fuelled by workshops, battles and parties with 'West Country Clash' to complete the festival.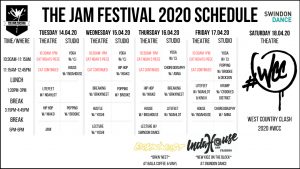 Prices (includes entry into WCC):
NOW ON SALE!
Early Bird Offer £200 1st January – 29th February – Booking on-line coming soon!
£250 1st March onwards