18 May, 2019 19:30 - 22:00
Venue:
Box Office:
DANCE, ACROBATICS, and CIRCUS THEATRE – an evening of performances that tell stories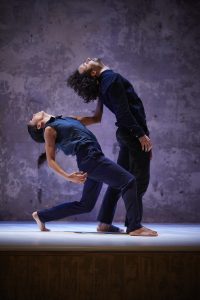 From the Top (Victor Fung Dance) is a witty dance work that explores the relationships between performers and dance makers.
Victor Fung is an Associate Artist at Swindon Dance.
Ding is what happens when two international performers come together to create their own work. Thomasin Gulgec and Estela Merlos created this quirky, mesmeric, light-hearted work to celebrate Swindon Dance's 40th birthday.
Thom and Estela are both Associate Artists at Swindon Dance
In One Lump or Two, Pocket Fluff Production offer a tender spellbinding story through breathtaking hand to hand acrobatics, quirky object manipulation, and a bespoke musical score.
The evening ends with Bafana Matea's production of Karla's Story. Losing most of her hearing in her teens did not prevent Karla realising most of her dream, emerging from a stunning world of silence into a dizzying world of dance.