Enriching lives through dance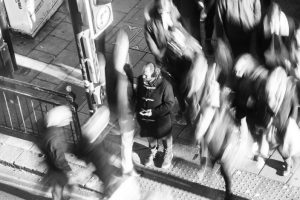 The hum is a mobile app that reflects on our own everyday interactions with our town centre.
Half cinema, half reality, the app weaves together visuals of your location with a specially composed soundtrack on your smartphone.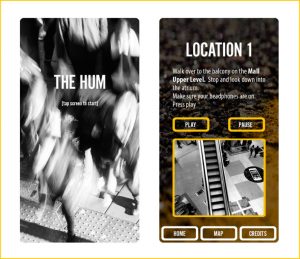 To experience The Hum simply download
the free app

,

plug in a pair of headphones and follow the trail on your screen
To download from:
Google play – click here
App store – click here
More about The Hum
Forming a series of acute observations on how we live and interact with the urban environment, The Hum incorporates text from four diverse artists including:
international dance artists Wendy Houston,
dance writer for The Times Donald Hutera,
director of Extant Theatre Company of visually impaired people Maria Oshodi,
live artist Pete Phillips,
and a sound score by musician James Keane.
These writers explore the subtle qualities of observed and experienced movement to create their own idiosyncratic narratives ranging from the poetic and humorous through to the ironic and subversive.
Re-visiting the mundane activities of our everyday lives, The Hum questions and elevates these inadvertent acts of choreography.
At times profound yet often personal it is an immersive work that reveals an alternative view of the city through movements that take place within it.

In The Hum there are no performers and no stage – just real life, framed as an unusual and surprising performance.

<h3Listen out for guest appearances by our Artistic Director and Marketing Officer in the soundtrack
The creators of The Hum
Find out more about award-winnining choreographer Yael Flexer and installation artists Nic Sandiland the artists and creators of The Hum – go to Flexer & Sandiland
Flexer & Sandiland create live and digital instillation work for theatres, galleries, screens and large outdoor spaces, alongside an extensive programme of commissions and tailor-made training for youth and community groups and professional development settings.
Flexer & Sandiland will be at the Court Theatre, Swindon Dance in February 2020 with their children's show 'Curiouser' – check it out here or watch trailer