Swing Out Swindon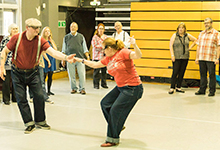 Swing Out Swindon Tutors Graham and Erica have been dancing together for around 9 years. Cliff started Swing Dance lessons about 14 years ago with his majority of lessons being Savoy style Lindy Hop with Graham and Ann from Hoppin Mad. Cliff also has a passion for Collegiate Shag and has been to many lessons and workshops. Erica has spent many years dancing around her handbag, then again about 14 years ago discovered Modern Jive, then followed Jazz Jive, then Lindy Hop and finally Collegiate Shag.
They met on the dance floor and over the years have developed their own style which is often commented on with a smile. They have brought their own styles and experience together and ended up with quite a characterful style of Swing Dance. As their dance style developed they decided to dance down the aisle in 2011 and so it continues.
They dance Lindy Hop most weekends at social dances and events and have been asked so many times "are you dance teachers?" so they decided to offer their services. With Erica's experience and qualifications in teaching and training and Cliff's knowledge of music and dance moves they make a good team.
They dance a variety swing dance styles including Lindy Hop, Collegiate Shag and Charleston and love to dance to 20's, 30's, 40's and 50's swing music.
Swing Out Swindon's Classes