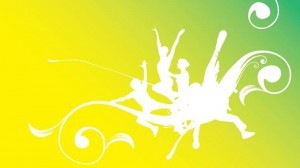 YOUTH SUMMER SCHOOL
For  11 – 16 years
 Tuesday 8th August:   10am-4.45pm   and   Wednesday 9th August: 10am -5pm
From Dance Fit Fusion to
Caribbean Funk, Contemporary ChoreoLab to Musical Theatre extracts there will be lots of opportunities to jump into a new style of dance! Our diverse taster workshops will be fun, energetic and inspiring, allowing participants the opportunity to try out new genres from across the dance industry.
 Tuesday
Dance Fit Fusion  Contemporary ChoreoLab   Caribbean Funk    Swing/Lindy Hop
 Wednesday
Dance Fit Fusion  Contemporary ChoreoLab     Dance from Musical Theatre
Price: £25.00 per day or £44.00 to book both days by Friday 7th July
__________________________________________________________
CHILDRENS SUMMER SCHOOL
for 7 – 10 years
Monday 21st, Tuesday 22nd, Wednesday 23rd August 2017
 10-3pm (With additional 9-10am Breakfast club & 3-4pm after school club)
 "Around the World in 3 Days" offers taster workshops for 7-10yr olds in various styles of dance with a cultural twist on top. Travelling around the world in 3 days, the participants will be stopping off in various Countries including India for a Bollywood Boogie, the Caribbean for a bi
t of Caribbean Flava, Africa for some African Jazz and not forgetting England for some Folk Dance Remix with a Street Dance feel on top.
Teachers:
Bollywood Boogie – Sonal Patel     Caribbean Funk – Charlene Smith
African Jazz Fusion – Zoe Humphries    Folk Remix – Natasha Khamjani
The 3 days will finish with a display of work to parents and friends on the final day at 2.30pm.
£22 per day or book all 3 days for £55 (Before 7th July)
 Breakfast and After School club available from 9-10am & 3-4pm for £4 per hour
Pics:  Joey Dart Photography