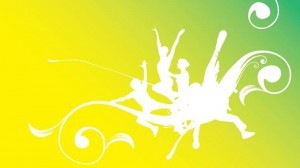 SUMMER SCHOOLS 2016!
CHILDRENS SUMMER DANCE SCHOOL 6 – 10 year old
Monday 22nd, Tuesday 23rd and Wednesday 24th August
The 3 days  will combine Salsa, Samba, Carnival, Capoeira (Brazilian Martial Art) and Sports Themes, culminating in a Sharing on the Wednesd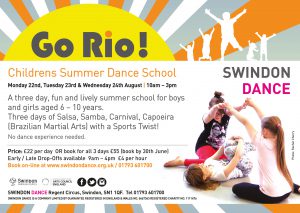 ay afternoon at 2.30pm.
No previous dance experience needed!
COST: £22 per day or book for all 3 days for £55
YOUNG PEOPLES SUMMER DANCE SCHOOL  11 – 18 years
Swindon Dance in Partnership with Prime Theatre, Swindon are holding a Youth Dance Summer School for ages 11 – 18 years.
Led by John Ross (BBC Performing Arts Fellow 2014-15 and winner of the Matthew Bourne Young Choreographer of the Year Award).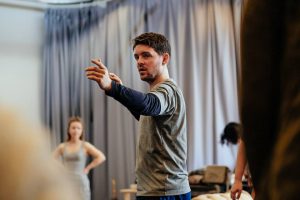 Each day will begin with a morning warm up followed by some games and using voices. Over the week the participants will look at different ways on how thet can combine movement and text, using different methods that John uses to create stories. These will range from reading from scripts, improvising and using the voice. The course will be very physical and we will have a main on emphasis on how movement can create a story. The course is designed for all level of partipcants whether you a confident actor/dancer.  A number of  theatrical tools will be used to to build confidence, build an ensemble and create stories. The week will build up to a small creation of short new works that the group have  created on the Friday afternoon.
JOHN ROSS
Originally from Dundee, John is a choreographer, movement director and performer. He trained at the London Contemporary Dance School. In 2015 he was named as one of the BBC Performing Arts Fund's 32 Ones to Watch.
As a Movement Director his work includes: Jumpy (Clwyd Theatr Cymru); Treasure (Finborough); One Arm (Southwark Playhouse); Deposit (Hampstead).
As a Choreographer his work includes: Wolfpack (Tour/V&A's Theatre and Performance Archive); Man Down (UK Tour/International Tour); Little Sheep (all for John Ross Dance) and commissions for Dance United, Shoreditch Youth Dance, DanceEast, Scottish School of Contemporary Dance and Old Vic New Voices.
As a performer, John's career began with Tannhauser (Royal Opera House, choreographed by Jasmin Vardimon), and he has since collaborated with companies and choreographers including Jorge Cresis, Freddie Opoku-Addiade, Akiko Kutimara, Ace Dance & Music, Two Thirds Sky, SmallPetitKlein, C12 Dance Theatre, Opera North and Tom Dale.
COST:  £25      Places limited to 15
The project is funded by RIO (Real Ideas Organisation) and Prime Theatre.
PROFESSIONAL SUMMER INTENSIVE with NEON DANCE
Saturday 13th  & Sunday 14th August  10am – 4pm
A two-day intensive designed to offer participants an insight into Neon Dance's approach to dance and dance making. Aimed at both professional dancers and dancers in full-time training. Join Neon Dance for two jam-packed days of contemporary technique, improvisation to live music and choreographic play!
Get fit, get inspired!
COST:  £60 early bird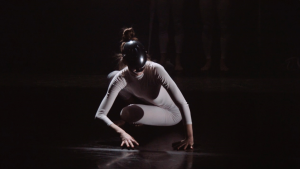 (booking by 30th June) | £80
Adrienne Hart is the Artistic Director of  Neon Dance. Adrienne will deliver contemporary technique each morning. Expect a fast-pace, technically demanding class influenced by elements of Release, Cunningham and Flying Low. Exercises warm and challenge the body, leading to longer movement phases reminiscent of Adrienne's own movement language with Neon Dance.