Swindon Dance is situated in the old Town Hall, a Grade 2 listed building in the centre of Swindon.  We have a theatre and two studios as well as a meeting room which are available for hire.
Whether you are organising a conference, meeting or event or want a space to rehearse or perform, we are happy to talk through any ideas you may have.  We offer a central location in a fully accessible landmark building, optional technical support and the chance to experience the creative atmosphere of a thriving dance environment.
"Swindon Dance is the perfect place for a private meeting room. It has the capacity to accommodate 20 people, providing a projector, free Wifi, with tea and coffee available for purchase, ensuring we were well-catered for. Coupled with a wonderfully artistic atmosphere, stunning historic building and the possibility of having a dance in one of the studios (!), our early morning meeting was transformed into something a little more inspirational. Thank you." 
Nicky Alberry Chairman at Influence ( Swindon's Economic Partnership)
Theatre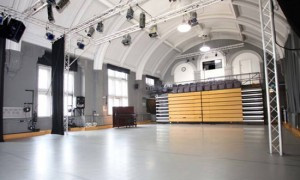 Equipped with a fully sprung floor, sound system and piano. Retractable seating unit, lighting rig and back stage changing rooms available for performances.
Capacity of 97 for performance and 30 for classes.
14 x 10 m
Studio 1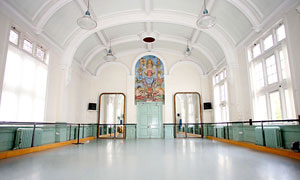 Equipped with a fully sprung floor, piano, mirrors, ballet barres and sound system.
Capacity of 30 for classes.
10m x 8.5 m
Studio 2
Located on the ground floor.
Equipped with full length mirrors and ballet barres.
Capacity of 15 for classes.
7m x 8.5 m
Meeting Room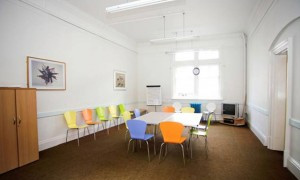 Equipped with chairs and tables. Projector available for hire.
Capacity for 30 seated.
5m x 8.5 m