Swindon Dance takes dance out into the community, offering exciting and diverse projects throughout Swindon and beyond working with a range of partners, arts and non-arts organisations.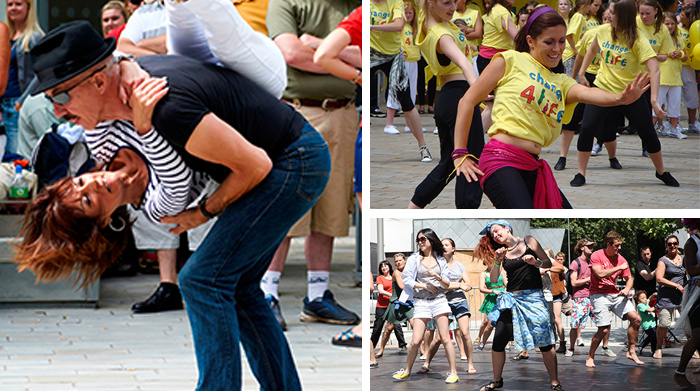 We are committed to enabling everyone of all ages to experience and participate in the richness of dance and the arts, whether they are stumbling across it for the first time at one of Swindon Dance's Big Screen Live dance events or taking part in Bristol Harbour Festival Dance Village – the largest dance festival in England programmed and managed by Swindon Dance 2011,  2012, 2013 and 2014.
Dance Village  Bristol Harbour Festival, Bristol 
Dance Village is the biggest free dance Festival in the SW attracting huge audiences to enjoy an exciting  programme of dance  of all kinds on and of the  Main Dance stage, this year in the Amphitheatre in the heart of Bristol. 2015 companies included Stop Gap, Ballet Black, Boy Blue , James Wilton Dance and Two Faced Dance, as well as some of the most exciting next generation  youth dance companies and dancers including Swindon's Dance's Youth Dance Company and  Youth Dance Academy.
Watch highlights from the 2015 Dance Village here: