Our youth groups offer young people exciting opportunities to tap into their creativity and natural ability and develop their dance skills. They offer a rich mix of dance styles and the chance to make work and perform too.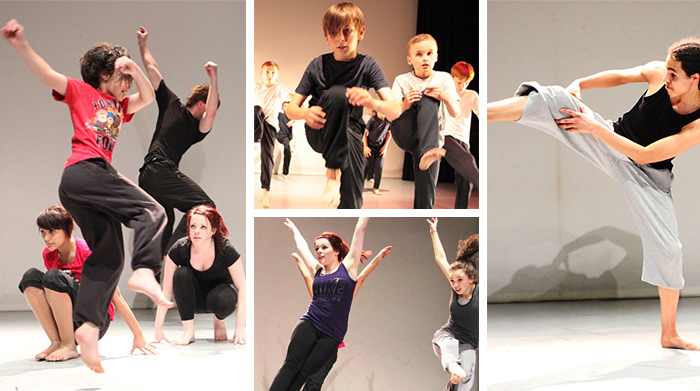 Groups are age appropriate and designed to support the individual and group development providing that perfect springboard for progression and enjoyment!  For people with or without any dance experience.
All-boys youth groups
We deliver highly energetic and motivational all boys dance groups that provide males with a physical, entertaining and creative experience and a progressive opportunity to make their way up to Swindon Dance's flagship all male dance company – STEREOTYPE BOYS Youth.  Boys groups meet weekly working creatively through contemporary dance as well as introducing other dance styles to create performance pieces for local and regional platforms such as Dance House, Swindon Dance's youth showcase and Swindon BBC Big Screen arena events.

JUST FOR BOYS 

7-10 years
Thursdays 17.00 – 18.00

STEREOTYPE BOYS Youth

11–16yrs
Thursdays 18–19.00
STEREOTYPE BOYS DANCE PROJECT (2015)
Swindon Dance Boys' Dance Project took place from January – June 2015 and  aimed to encourage more boys to get involved in dance and to show that dance was "not just for girls".
The project saw all-boys dance company STEREOTYPE (ages 11 to 16 years for boys of all abilities) taking part in a Swindon schools' tour visiting Swindon Academy, Commonweal School, Churchfields Academy and Robert Le Kyng Primary.
In each school STEREOTYPE presented a lecture performance consisting of a demonstration of company class and a performance of two contemporary dance pieces followed by the schools participating in a boys only workshop led by the company director and STEREOTYPE members.
 "The Swindon Dance Boys Project created a real buzz at our school. Boys from year 7 to 10 – with limited dance experience but a lot of enthusiasm and a thirst to learn a new skill and discipline – were so excited to get involved!" (Rebecca Woolven, subject leader for dance at Swindon Academy)
ic projects for boys. The resulting work was shown at an all-boys dance platform at Swindon Dance.
 "Before taking part in the project some of the boys had never danced before and it has given them a sense of achievement and a new confidence to try something 'a bit different'." (Claire Bowden, Head of Dance at Commonweal School)
The 2015 boys' project has resulted in a number of successes, none more important than being able to celebrate the hard work and great achievements by the boys themselves. More boys' projects are set to take place with an after-school boys' dance company at Swindon Academy, new recruits to STEREOTYPE and all-boys' dance days being programmed in schools in the next academic year.
The Boys' Dance Project was made possible through a partnership with Pebley Beach, a Swindon-based car dealership and vehicle workshop. Pebley Beach, who have received government plaudits for their apprenticeship programme, are keen to support young people in fulfilling their potential.
Watch STEREOTYPE PERFORMING IN SCHOOLS 2015