Register your interest and train with CAT from September 2022
We are pleased to announce we will be running a full programme from September 2022. The audition is your opportunity to demonstrate your potential and get to know what the CAT involves. The CAT audition is free but the form below must be completed and submitted to express your interest in joining.
AUDITION QUESTIONS
Please read our audition FAQs regarding Swindon Ballet (pilot) Programme. If we haven't addressed your query please don't hesitate to contact us cat@swindondance.org.uk.
STUDENT SUCCESSES
Past students have progressed into full-time training at Europe's top vocational schools and conservatoires and are now working professionally in the dance industry.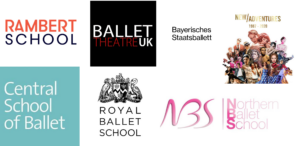 I would not be half as confident or motivated as I am without the experience and knowledge I've gained from classes and friends – it has been truly invaluable
CAT Student perspective
Over four years a 'family' of patient, dedicated and professional teachers and support staff have changed our son from an energetic boy into a professional dancer. In addition to the requisite dancing skills they have showed him how to protect those skills, with guidance on health, fitness and training; they have rescued him from injuries and taught him to understand his limits. They have put him in the hands of first class guest choreographers, giving him permission to think creatively and transforming his confidence and they have encouraged him to push his boundaries and seize opportunities. They have given him a preview of the professional world he is entering.
Parent perspective
More interested in Street Dance or Contemporary? Find out about the other CAT programmes
CAT STREET DANCE AND CONTEMPORARY PROGRAMMES