Professional Performances: Small venue - Big Aspirations!
Our 100 seater intimate studio theatre is one of a very few dance led performance spaces outside of London regularly presenting an exciting mix of new and interesting dance by touring professional companies, as well as the next generation of independent choreographers and artists. The programme brings a taste of the dance of today to our local and regional audiences. With a track record of over 30 years as a dance venue, Swindon Dance has provided a seed bed from which have grown some of today's significant dance artists, companies and choreographers.

In addition to our performance season at Swindon Dance, we also work with larger middle scale venues and partners including the Wyvern Theatre in Swindon and Bath ICIA to present larger middle scale work. This also provides a pathway to a larger venue and audience for the companies that we have worked with in our smaller studio theatre.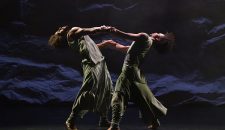 Swindon Dance
March 24, 2017
ACE – MUSIC & DANCE
At a time when more and more people across the world find themselves having to leave their own lands, ideas of home and belonging are changing.
Full of both intensive physical power and very human fragility, TEN choreographed by Jose Agudo, explores the concepts of moving away and leaving, looking at how and why people choose previously unimagined destinies over the lives they'd always thought they would live.
TEN combines contemporary dance with the essence of Flamanco, Kathak, Martial Arts and Ballet with ACE's Afro-Fusion style with a music composition by Giuliano Modarelli created in collaboration with Beautiful Noise (Vincenzo Lamagna).
See a great review about TEN here     https://susanwalkerartsblog.com/2017/02/11/ten-is-a-ten/  
Watch a short trailer here:https://vimeo.com/193549218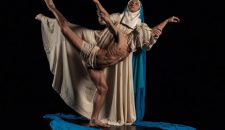 Swindon Dance
April 7, 2017
DeNADA DANCE THEATRE
DeNada Dance Theatre present a gender-bending evening of seductive and provocative dance choreographed by Carlos Pons Querra.
Three short narrative works from this kitschy and filmic bill of contemporary dance with a very Spanish flavour – a true feast of meaty dance soaked in a salsa of passion.
Performed by an international cast of dancers, to a soundtrack of Latin vintage classics and Manuel de Falla's El Amor Brujo, with stunning period costume and set by Ryan Dawson Laight and a perfect mix of dance, jamon and drama, these three explosive period pieces will excite adult audiences of all backgrounds.
Age guidance: 14+ due to partial nudity and scenes of a sexual nature
Watch a short trailer here:  https://vimeo.com/117096717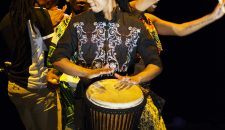 Swindon Dance
April 21, 2017
STATE OF EMERGENCY
Where do you come from? How did you reach this lace in your life? Where are you heading? Where is home?
Soweto, late 80s. A young man struggles against the security forces, confronts tribal tensions and deals with the death of his own mother. He falls in love with a girl from the wrong neighbourhood and together they decide to run away from home and everything they have ever known…
Where is Home? is a universal tale, investigating themes of global human migration and displacement. In this quest for adventure, freedom and love, the characters seek their fortunes, experience war and oppression, fall in love, discover the price of fame, and travel to distant lands only to find that what they seek was right under their noses all along.
A new twist on a 1000 year old fable with choreography by Bafana Matea, Michael Joseph and Dumisani Ngubane alongside an original music score by Steve Marshall and Grammy Winner Wouter Kellerman with Costumes by Natacha Lascosse (Acossi Jeans NY).
Watch a short trailer here:    https://vimeo.com/208687945
iCal Import