Swindon Dance presents
WEST COUNTRY CLASH
Swindon Dance will be hosting its very first street dance styles battle, 'West Country Clash (WCC)' in partnership with Jam! Multi Styles Battle (MSB) and the Youth Dance Academy (YDA).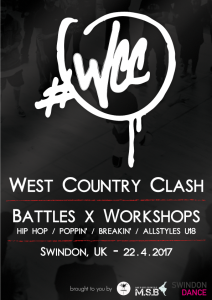 This exciting dance event will see talented street dancers from across the UK compete to music from a live DJ in the styles of; B-Boying, Hip-hop, Popping and under 18's all styles. Take part or spectate, the event can be enjoyed by ALL AGES! Well-known international dance artists join the panel to judge the dancers as they battle it out and test their skill in the different street dance disciplines. Whether you regularly attend battles or this is your first venture into the world of live street dance this is an experience not to be missed!
Includes FREE workshops for ages 11+ included in entry price!
 Jam! – Kieran Warner
Team Multi Styles Battle – Director Tyler Attwood
Youth Dance Academy is a Centre for Advanced Training and is supported by the Department for Education (DfE) Music and Dance Scheme
Tickets available from Swindon Dance 01793 601700 or on the door!