After creating and steering the development of Swindon Dance for over 35 years founding Artistic Director, Marie McCluskey has worked with, guided, mentored and supported literally hundreds of people to watch, make, perform, produce, and study all kinds of dance.
The impact of her contribution to developing dance in the UK spreads far beyond Swindon. For Marie it has always been about the people and she now takes great pleasure in gifting a special fund to support the next generation of dance makers.  Funds for this new award were raised from a collection by artists, participants, colleagues, staff and friends on Marie's retirement in 2016.  It is planned to offer a similar award in 2018/19.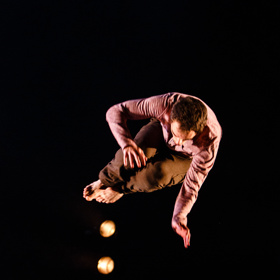 What is the purpose of the DanceMakers fund? 
 Swindon Dance has helped many choreographers to take time to develop their craft and to explore their own choreographic ambitions.  In terms of growing talent early on a combination funds, space, dialogue and forming positive working relationships can have real impact.  It is hoped that this new supported commission will encourage new talent to grow.  It is this next generation of dance makers that the award would like to support.  Marie reflected that " Over the years it has been amazing to witness how small amounts of support early on can help choreographic talent to emerge and fly. I hope that this new award will encourage this to happen."             
After graduating from LCDS I knew I wanted to choreograph my own work.  Swindon Dance offered me my first career mentoring sessions and a platform to present my early work.  The scheme became a springboard for me.  It emphasized the importance of creative play with collaborators and helped me to understand the need for critical dialogue.      Adrienne Hart, Neon Dance
 I started making work for my own company in 1996…the solo Two, which was originally made in 1997…was supported by Swindon Dance, and is still being performed and has also been filmed for Channel Four.  Without the belief and support of producers like Swindon Dance, this work would not have seen the light of day, and I would not have had these great opportunities to explore and develop works that have informed my subsequent choreographic process.     Russell Maliphant             
 Marie McCluskey has had an incredible impact and influence upon my career, both in terms of choreography but also the arts business.  This started from when I was 2 years out of training and has continued ever since. She aided me in seeing the bigger picture of what dance can be, what my strengths are and what I can do to improve. Marie has shown me massive amounts of support and I can honestly say that I would not have achieved what I have without her guidance.   James Wilton 
What does the DanceMakers award include?
£1,000 towards production costs of a new work suitable for live performance in small-scale or flexible spaces
Space to rehearse at Swindon Dance for up to three weeks during 2017/18
Mentoring opportunity with Marie McCluskey
Performance date promoted by Swindon Dance during 2018/19
News Release to National Dance Network and regional promoters to raise profile of successful artist
Who can apply?
Choreographers who are within 5 years of graduating from their professional training.
Able to provide evidence of making work for professional context rather than a vocational one e.g. a youth dance commission or at Resolution or other professional performance contexts.
Able to demonstrate artistic ambition – e.g. you can say why making work, your concept for piece, show how the award can help the coherence of your own journey as a maker.
Work planned is suitable for live presentation in a small-scale theatre context or flexible space and will be produced by Spring 2018.

How to apply?
Download an application form here  that covers  the following and return your completed application to info@swindondance.org.uk:
Artist's statement about choreographic work to date and how this new work will help you develop your voice as a maker.
Description of choreographic vision for new work e.g. artistic intention, collaborators and their process, and presentation context needed.
Provide details of Choreographic CV and link to a video of recent work.
Provide a professional reference for your choreographic work.

Selection Panel:
Marie McCluskey
Sue Davies,
Viv Slayford, Artistic Director, Swindon Dance

What Next?
Applications open Monday 16th January 2017
Closing date for applications:  6pm March 31st 2017
Award announced by 28th April 2017
Flexible schedule of making 2017/18 to be negotiated with Swindon Dance
Completion of work by end of March 2018

Application deadline:  6pm Friday 31st March 2017
Swindon Dance
Regent Circus
Swindon SN1 1QF